David Edwards
Visiting Teaching Faculty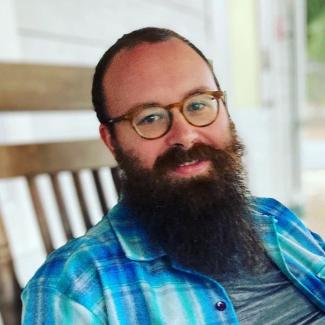 Contact Information
Area
Visiting Teaching Faculty
Background
David R. Edwards (Ph.D., Florida State University) specializes in ancient Mediterranean religions, history, and literature, and teaches introductory and survey courses in religion such as Introduction to World Religions, Introduction to New Testament, and Introduction to Old Testament. His teaching engages students in the course content in a variety of ways including textual analysis, creative writing, film and media, historical methods, anthropology and ritual, literary approaches, and reader response. He primarily researches the ancient Jewish historian Flavius Josephus but also writes on miscellaneous topics of interest in ancient Judaism, the New Testament, and early Christianity. His work combines traditional historical- and source-critical methodologies with a close attention to the literary and rhetorical contours of ancient Mediterranean texts.
He is currently completing a book manuscript tentatively titled In the Court of the Gentiles: Narrative, Exemplarity, and Scriptural Adaptation in the Court-Tales of Flavius Josephus. This project explores how Josephus adapts the scriptural stories of Joseph and Esther in surprising and subversive ways as models for fresh accounts about more recent Jewish figures. It explores the context of elite Greco-Roman literary culture in which Josephus wrote and reads his practices of subversive adaptation through the lens of exemplarity, a mode of discourse centered on instruction in ethical and pragmatic decision-making which pervaded the historiographical and biographical traditions of the early Roman principate. By presenting Jewish scriptural figures as exemplary models and juxtaposing more recent contemporaries beside them in a complex and subtle comparison, Josephus was able to engage the moral formation of his readers and raise pressing pragmatic questions among elites during a turbulent period for Roman institutions and mechanisms of power.
Selected Publications
"Ancient Jewish Court-Tales, Scriptural Adaptation, and Greco-Roman Discourses of Exemplarity: Joseph, Esther, and Agrippa I in Josephus' Antiquitates Judaicae." In From Josephus to Josippon and Beyond, edited by Jan Willem van Henten, Michael Avioz, and Carson Bay. Brill, forthcoming 2022/23.

"'Taken Up in Glory': Early Christian Traditions of the Ascension in Light of 1 Timothy 3:16." Journal of Early Christian History (published digitally, print forthcoming)

"On the Rhetoric of Ruins and Restorations: Conflict over Cult Sites in Late Antiquity." Journal of Early Christian History 10, no. 2 (2020): 49–67.

"The Economic Spark of the Burning of the Temple of Apollo in Daphne." Journal of Near Eastern Studies 78, no. 2 (2019): 307–321.
Courses Taught
Introduction to World Religions (REL1300)

Introduction to New Testament (REL2240)

Introduction to Old Testament (REL2210)