Kathleen Erndl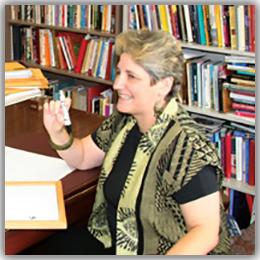 Dr. Kathleen M. Erndl
January 21, 1954 – February 19, 2017
Our colleague Kathleen Erndl suddenly passed away on February 19.
After earning her undergraduate degree in comparative religions and anthropology from New College of Florida, Kathleen M. Erndl received a Ph.D. in South Asian Language and Literature (Religions of South Asia) from the University of Wisconsin-Madison in 1987. Before arriving at Florida State University, she taught at DePauw University, Lewis & Clark College, and the University of Wisconsin-Madison. In addition to serving on the faculty at FSU for almost a quarter-century, she was also a courtesy professor in the Department of Religion at the University of Florida, and was affiliated with its Center for the Study of Hindu Traditions.
During her career at FSU, Prof. Erndl taught a wide range of courses at all levels of the curriculum on South Asian religion and culture, including courses on Hindu goddesses, the epic Ramayana, Hindu-Muslim conflict in India, Hindu ethics, and Bollywood film, in addition to language classes in Sanskrit, Hindi, and Urdu. She was widely recognized, by students and colleagues, as an excellent teacher, and received University Teaching Awards from FSU in 1997 and 2006.
Her research focused on popular religion and culture in India. Her book Victory to the Mother: The Hindu Goddess of Northwest India in Myth, Ritual, and Symbol (Oxford, 1993) was widely acknowledged as path-breaking, and she also published the co-edited volume Is the Goddess a Feminist? The Politics of South Asian Goddesses (NYU Press, 2000), as well as articles on Sakta traditions, spirit possession, women's religious expressions, methodology, and gender issues in Hinduism. At the time of her death, she was completing a book entitled The Play of the Mother: Women, Goddess Possession, and Power in Hinduism, as well as other publications on Bollywood film and religion. The quality of her research was recognized with fellowships from the American Institute of Indian Studies, the National Endowment for the Humanities, the John Simon Guggenheim Memorial Foundation, and the Fulbright-Hays program, as well as a Developing Scholar Award from FSU in 2000.
Her devotion to the field of South Asian studies included founding and organizing the Conference on South Asian Media and Cultural Studies, as well as six years as co-chair of the Religion in South Asia Section of the American Academy of Religion, and membership on the South Asia Council of the Association for Asian Studies. At FSU, she happily took on a wide variety of administrative tasks during the course of her career, whether advising in the Department of Religion, running the Program in Interdisciplinary Humanities, or serving on the Graduate Policy Committee; for many years, she served as the Department of Religion's representative to the Faculty Senate.
We deeply miss Kathleen's intellectual brilliance, and her commitment to FSU. But just as much, we miss what these paragraphs only suggest: her cutting wit, and the bottomless kindness she showed to everyone she met.