Meredith Ross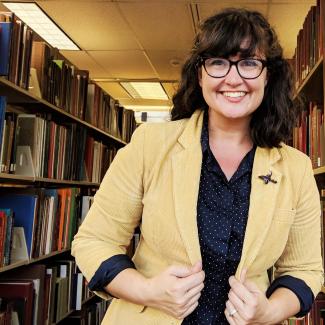 Contact Information
Office Location
M09 Dodd Hall
BACKGROUND
Meredith Ross (Ph.D, Florida State) studies the intersection of religion and information in the twentieth-century United States. Ross holds a Master's in Library and Information Studies, and defended her dissertation in American Religious History (Mainline Protestantism, Scholarship, and the Twentieth Century Church Library Movement in the United States) in April 2018. She currently teaches Religion and Twentieth Century Fantasy Literature.
PUBLICATIONS
"House of Card: Ender's Game and Speculative Fiction as Vehicle for Religio-Political Values," Journal of Religion and Popular Culture 28, no. 2 (2016): 178-185. 
 "The Unschooled Writer," in Deep Reading: Teaching Reading in the Writing Classroom, Patrick Sullivan, Howard B Tinberg, and Sheridan D Blau, eds. (Urbana, Illinois: National Council of Teachers of English, 2017). 
RESEARCH INTERESTS
Religion and Information
Church Libraries
Islam in the US
RECENT COURSES
REL3112: Religion and Twentieth Century Fantasy Literature
REL1300: Introduction to World Religions