Adam Gaiser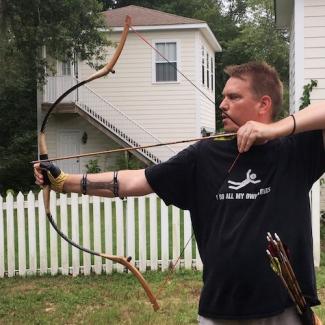 Contact Information
Area
History and Ethnography of Religions
Faculty
Office Location
313 Dodd Hall
Office Hours
via Zoom (email for appointment link)
Background 
Adam Gaiser (Ph.D. '05, University of Virginia, History of Religions) teaches courses in Islamic studies.  His research focuses on the development of early Kharijites and Ibadiyya, especially on how these groups negotiated their identity among in the context of Arabian, Mesopotamian and North African cultural-religious settings.  Dr. Gaiser also teaches courses on Shi'ism, Islam in North America, Islamic Law, the Prophet Muhammad and the Qur'an.    
Research Interests 
Early Islamic Sectarianism: Kharijites, Ibadites and Shi'ites
Islamic and Eastern Christian Conceptions of Martyrdom
Early Islamic Spain and North Africa
Islam in Europe and the Americas
Current Research Projects 
The Umma Divided: Islamic Sects and Schools (Contracted: Cambridge University Press)
Abstract: This study aims to provide digests of the major historical sectarian divisions among Muslims – the Shī'a, Khawārij and Ibāḍiyya, Mu'tazila and Murji`a and the Ahl al-Sunna wa'l-Jamā'a – while simultaneously offering a critical discussion of sectarianism in the Islamic world.  The chapters of this book aim to present concrete sectarian groups while refracting the concept of sect through various lenses (i.e. sect as allegiance, protest, theology, and as majority).  Framing the central chapters on sectarian groups will be opening chapters devoted to the concept of sect and the early history of Islamic sectarianism.  Closing chapters will deal with recent developments: the colonial and modern use of the concept of sect and an evaluation of contemporary sectarian divisions.  Although the work takes medieval heresiographical categories as its starting point it intends to broaden its scope in the final chapters to include newer sectarian movements and questions about what groups might or might not "count" as a sect.
Publications 
Books
Guest Edited Journal Issue
(with Miriam Ali de Unzaga) "Facets of Exchange between North Africa and the Iberian Peninsula," The Journal of North African Studies (Spain-North African Project Special Issue), 19/1.
Articles 
"In them are Good Models": Ibādī depictions of the Muhakkima," in Reinhard Eisener (Ed.), Today's Perspectives on Ibadi History (pp. 75-81). Hildesheim: Georg Olms Verlag, 2017.
"A Narrative Identity Approach to Islamic Sectarianism," in Nader Hashemi, & Danny Postel (Eds.), Sectarianization: Mapping the Politics of the New Middle East (pp. 61-75). London: Hurst, 2017.
"Takfīr re-examined: polemic and ambiguity in the sources on the Muhakkima," in Barbara Michalak-Pikulska, & Reinhard Eisener (Eds.), Ibadi Jurisprudence: Origins, Developments and Cases (pp. 31-38). New York: Georg Olms Verlag, 2015.
"Teacher Lines in al-Qalhati's al-Kashf wa'l-Bayan: The Accumulation of a Medieval Ibāḍī Identity," in The Muslim World 105/2 (2015): 157-162.
"Slaves and Silver across the Strait of Gibraltar: Politics and Trade between Umayyad Iberia and Khārijite North Africa," in Medieval Encounters (Spain North-Africa Project Special Issue), 19 (2013): 41-70.
"The Kharijites in Contemporary Scholarship," in Oxford Bibliographies Online, 35 (2013).
"Tracing the Ascetic Life and Very Special Death of Abu Bilal: Martyrdom and Early Ibadi Identity," in Angeliki Ziaka (Ed.), On Ibadism (pp. 59-72). Hildesheim: George Olms Verlag, 2013.
"North African and Omani Ibādī Accounts of the Munāzara: A Preliminary Comparison," in Cyrille Alliet (Ed.), L'ibādisme: une minorité au cœur de l'islam (pp. 63-73). Aix-en-Provence: Revue des Mondes Musulmans et de la Méditerranée, 2012.
(Review) "Ibādism: Origins and Early Development in Oman," in Jerusalem Studies in Arabic and Islam, 39 (2012): 467-477.
"What do we Learn about the Early Khārijites and Ibāḍiyya from their Coins?" in Journal of the American Oriental Society 103/2 (2011): 167-187.
"The Ibāḍī 'Stages of Religion' Re-examined: Tracing the History of the Masālik al-Dīn," in Bulletin of the School of Oriental and African Studies 73/2 (2010): 207-22.
"Source-Critical Methodologies in Recent Scholarship on the Khārijites," in History Compass 7/5 (2009): 1376-90.
"Satan's Seven Specious Arguments: al-Shahrastānī's Kitāb al-Milal wa'l-Nihal in an Ismā'īlī Context," in Journal of Islamic Studies 19/2 (2008): 178-195
---
Courses
fall 2022
REL3363: Islamic Traditions
REL4304/RLG5305: Qur'anic Studies
spring 2022
REL3367: Islamic Traditions II: Islam up to the Modern World
REL4304/RLG5305: The Prophet Muhammad