Laura McTighe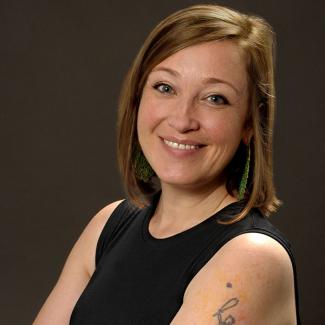 Contact Information
Area
American Religious History
Faculty
Office Location
107B Dodd Hall
Background
Laura McTighe (Ph.D. Columbia University) is a scholar of religion, race, gender, and abolition, with a particular focus on the American South and Gulf Coast. Her work is deeply interdisciplinary, bridging the fields of Anthropology, History, Geography, Queer Studies, Black Studies, and American Studies. It is also deeply collaborative. As a longtime student of social movements, she works in partnership with organizers to theorize the operation of racial capitalism in our daily lives, and to explore how we can dream beyond what is to build together what must be. Doing so requires attending to the often-contradictory roles of religion in our worlds, be that as a force for expanding the violence that fills our present, or as a resource for building the world otherwise. 
These are precisely the grounded lessons she brings to bear in her undergraduate and graduate classrooms, for which she was recognized with a 2021–2022 University Teaching Award for Community Engaged Teaching. She also recently published the article "The Ground on Which We Stand: Making Abolition" with five of her students, which centers their journey to create abolitionist futures in real time at Florida State University and in their home communities. 
Co-thinking and co-creating knowledge in these ways has enabled her to build a dynamic community-directed research program. Dr. McTighe's first book project Fire Dreams: Making Black Feminist Liberation in the South (Duke University Press, forthcoming Fall 2023) is a social movement ethnography, collectively-authored with her longtime research partners at Women With A Vision in New Orleans. A richly polyvocal and experimental text, Fire Dreams explores the histories and futures of southern Black women's work to build worlds that are more survivable than our present through commitments to harm reduction, mutual aid, and transformative justice. It also enjoins readers as accomplices to growing these visions and practices in their own corners of the world. 
In the summer of 2022, she began work on a two-year public humanities collaboration with Elayne Oliphant (New York University) and Daniel Vaca (Brown University) called "Creating the World Anew: Religion, Economy, and Mutual Aid," funded by the Henry Luce Foundation. This project will open a committed space of practice and study for exploring the role of religion in building worlds and economies beyond the violence of racial capitalism in our present towards human flourishing. Dr. McTighe's contributions to this collaboration will center on the southern Black Radical Tradition, most specifically the afterlives of organizer Mrs. Callie House's work to build a 300,000-person movement for mutual aid and reparations led by formerly enslaved people at the turn of the twentieth century. "Creating the World Anew" will also serve as a springboard for her second book project, Moral Medicine, which employs similarly rigorous, community-driven methods, engaging formerly incarcerated women as experts in excavating the histories of gendered criminalization and abolition feminism in the South today.
Dr. McTighe's research has been supported by grants from the Henry Luce Foundation, the Wenner-Gren Foundation for Anthropological Research, the Institute for Citizens and Scholars' Charlotte W. Newcombe Doctoral Dissertation Fellowship, the Institute for Religion, Culture, & Public Life, the Dartmouth College Venture Fund, Florida State University's Council on Research and Creativity, and the Robert B. Bradley Library Research Grants program. Her academic writings are a tapestry of work made in concert, and appear in Souls: A Critical Journal of Black Culture, Politics and Society, Signs: Journal of Women in Culture and Society, the Journal of the Academy of American Religion, the Society for Cultural Anthropology's Fieldsites, the Journal for the Anthropology of North America, Radical History Review, Southern Cultures, and The Immanent Frame, among others. She has also been an invited speaker at numerous academic institutions and community organizations, including the Haverford College Distinguished Visitors Program.
She is a member of the 2022–2024 cohort of Young Scholars in American Religion, and serves on the Steering Committees for the African-American Religious History Unit and North American Religions Unit of the American Academy of Religion. She is also a member of the 2022 Program Committee for the American Studies Association's annual meeting in New Orleans. 
Beyond these commitments to the academy, Dr. McTighe continues to work in service of the communities most impacted by HIV and mass criminalization. She is the Co-Founder of the inside/outside publication Prison Health News, the Co-Founder and Associate Director of Front Porch Research Strategy in New Orleans, and a Co-Founder of the Tallahassee Bail Fund. She also serves on the boards of Transforming Reentry Services in Chicago, and Reconstruction Inc. in Philadelphia.
---
Publications 
Dr. McTighe's publications are available on her webpage.
---
Courses
FALL 2023
SPRING 2024