Laura McTighe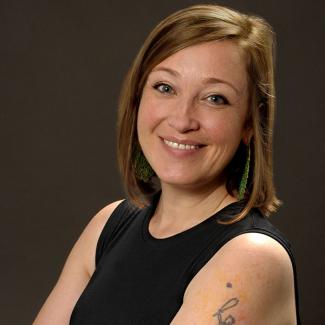 Contact Information
Area
American Religious History
Faculty
Office Location
M06 Dodd Hall
Background
Laura McTighe (Ph.D. Columbia University) is a scholar of religion, gender, and race in the United States, with a particular focus on the American South and Gulf Coast. Her work is deeply interdisciplinary, bridging the fields of anthropology, geography, queer studies, Black studies, and public health. It is also deeply collaborative. As a longtime student of social movements (most specifically our nation's movements to end AIDS and prisons), she works in partnership to study the enduring and often-hidden histories of struggle that fill our present and asks how practitioners use religion to imagine and build the world otherwise.
Thinking with practitioners in these ways has fueled a breadth of intersecting and interlocking research interests: criminalization, migration, reproductive justice, HIV/AIDS, and land dispossession, to name a few. In her undergraduate classrooms, she bring the texts and traditions that activists have developed to address these issues (what she calls "theory on the ground") into conversation with scholarly works, thereby ensuring that her students have the space to reflect in an academic context on topics with which many are already engaged personally and politically. In her graduate classrooms, she uses these issues as critical hermeneutics for reimagining theory and method in American religious history and in the field writ large.
Her first book project, Fire Dreams, is a collaborative ethnography of activist persistence and the sacred terrain of Black feminist history-making, undertaken in partnership with the leaders of New Orleans' Women With A Vision after their offices were firebombed and destroyed in a still-uninvestigated arson attack. Her next book project, "Moral Medicine," is a historical ethnography of race, religion, and gendered punishment, which traces the continuities between nineteenth-century carceral imaginaries and our current era of mass criminalization––as well as the abolitionist possibilities that have been grown and sheltered in these darkest of institutions. Additionally, she is also engaged in two public humanities projects: the first, "Refusing to Vanish," maps Muslim women's AIDS activism throughout the African diaspora; the second, "To Instill Love for My People," moves with Chicago elders as they reassemble the communities decimated by mass criminalization. 
Her research has been supported by the Woodrow Wilson National Fellowship Foundation, the Wenner-Gren Foundation for Anthropological Research, the Institute for Religion, Culture, & Public Life, and the Dartmouth College Venture Fund. She is also the co-founder of Front Porch Research Strategy in New Orleans, and serves on the boards of Men & Women In Prison Ministries in Chicago and Reconstruction, Inc. in Philadelphia.
---
Publications 
EDITED COLLECTIONS
"'Religio-Racial Identity' as Challenge and Critique." Journal of the American Academy of Religion. Roundtable editor and contributor. (Conditionally Accepted, Expected July 2020)
"An Otherwise Anthropology." A Cultural Anthropology "Theorizing the Contemporary" series (2019). Co-editor and contributor with Megan Raschig.
ARTICLES AND CHAPTERS
---
Courses
FALL 2021
REL3145: Gender & Religion
REL4491: Seminar: Scholarship & Practice: Abolition
RLG5906: DIS: Imagining Religion Otherwise
SPRING 2022