Michael J. McVicar
Associate Professor of Religion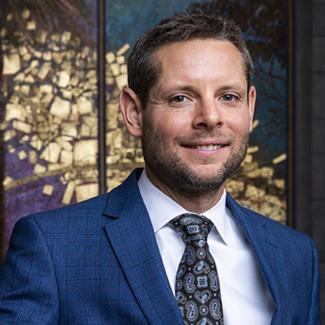 Contact Information
Area
American Religious History
Faculty
Office Location
208 Dodd Hall
Background
Michael J. McVicar (Ph.D., Ohio State University) researches the relationship between religion and politics in twentieth-century U.S. history, with a specific focus on the emergence of the American conservative movement in the post-World War II era. He also focuses on the relationship between religion, the state, and corporations in twentieth century American culture. He teaches courses on contemporary evangelicalism, new religious movements, theory and method in religious studies, and gender and sexuality in religion.
His first book, Christian Reconstruction, offered the first academic study of the theology of Rousas John Rushdoony and the development of Christian antistatism and the homeschooling movement.
McVicar's second book project, God's Watchers, will focus on the interaction between religion, domestic surveillance by non-governmental organizations, and the development of political and social conservatism in twentieth century American culture. Based on extensive archival research and numerous Freedom of Information Act requests, the project explores how religious pressure groups in the United States assembled massive archives of information about a range of perceived "threats" to the American political and social system. Research for God's Watchers has been supported by a number of competitive research grants, including sources from Florida State, Columbia University, New York University, the Louisville Institute, and the National Endowment of the Humanities.
Publications
Books:
Christian Reconstruction: R. J. Rushdoony and American Religious Conservatism.Chapel Hill, NC: University of North Carolina Press, 2015.
Research in progress:
God's Watchers: Domestic Intelligence Gathering and Religious Activism from the Civil War to the War on Terror. Under contract with the University of North Carolina Press.
Articles and Chapters:
"Charts, Indexes, and Files: Surveillance, Information Management, and the Contested Boundaries of American Protestantism." Religion and American Culture: A Journal of Interpretation, 30(3), 1-54. 
"Christian Reconstruction and the Austrian School of Economics." In Hayek a Collaborative Biography, Part IX: The Divine Right of the "Free" Market, edited by Robert Leeson. Archival Insights into the Evolution of Economics. New York: Palgrave Macmillan, 2017.
"Apostles of Deceit: Ecumenism, Fundamentalism, and the Contested Loyalties of Protestant Clergy During the Cold War." In Religion and the FBI: Faith and National Security before and after 9/11, edited by Sylvester A. Johnson and Steve Weitzman. Berkeley: University of California Press, 2017.
"The Religious Right in America." In Oxford Research Encyclopedia of Religion, edited by John Barton. New York: Oxford University Press, 2016.
"Take away the Serpents from Us: The Sign of Serpent Handling in the Development of Southern Pentecostalism," Journal of Southern Religion, 15 (2013).
"'Let Them have Dominion:' 'Dominion Theology' and the Construction of Religious Extremism in the U.S. Media," Journal of Religion and Popular Culture, 25 (Spring 2013): 120-145.
"Aggressive Philanthropy: Progressivism, Conservatism, and the William Volker Charities Fund," The Missouri Historical Review 105 (July 2011), 191-212. Awarded the Missouri Conference on History Lawrence O. Christensen Article Award, 2012.
Research Interests
Method and Theory in Religious Studies
Religion and Politics in the United States
American Conservatism
Religion and Surveillance
---
Courses
FALL 2023
REL2121: Religion in the U.S.
REL4190/RGL5195: Seminar: Nationalism & Religious Violence (co-taught with Dr. John Kelsay)
Spring 2023
HUM2937: Humanities Honors Seminar: Culture Wars
REL3484: New Religious Movements