Bryan J. Cuevas
John F. Priest Professor of Religion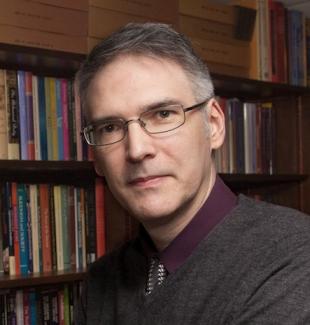 Contact Information
Area
History and Ethnography of Religions
Faculty
Office Location
120E Dodd Hall
Background

Bryan J. Cuevas (Ph.D., University of Virginia) joined the Department of Religion faculty in 2000. He teaches graduate and undergraduate courses in Asian religious traditions, specializing in Tibetan and Himalayan Buddhism, Tibetan history, language, and culture. His principal research interests focus on Tibetan history and biography, Buddhist magic and sorcery, the politics of ritual power in premodern Tibetan societies, and the literary history of death narratives and death-related practices.
Dr. Cuevas is the author of Travels in the Netherworld: Buddhist Popular Narratives of Death and the Afterlife in Tibet (Oxford, 2008) and The Hidden History of the Tibetan Book of the Dead (Oxford, 2003). He is also the co-editor of The Buddhist Dead: Practices, Discourses, Representations, with Jacqueline I. Stone (Kuroda Institute/Hawai'i, 2007) and Power, Politics, and the Reinvention of Tradition: Tibet in the Seventeenth and Eighteenth Centuries, with Kurtis R. Schaeffer (Brill, 2006). More recently, he is the translator of The All-Pervading Melodious Drumbeat: The Life of Ra Lotsawa (Penguin Classics, 2015), the biography of Tibet's most notorious Buddhist sorcerer. His translation won a Shantarakshita Award for Excellence in Translation from the Tsadra Foundation in 2017. His recent articles and reviews have appeared in the Journal of the Royal Asiatic Society, Journal of Asian Studies, History of Religions, Journal of the International Association of Tibetan Studies, and Revue d'Etudes Tibétaines, as well as contributions to several anthologies on Tibetan literature, history, art, and ritual studies. He is currently working on a study of Tibetan sorcery and the politics of Buddhist ritual magic in Tibet up through the early nineteenth century.
Dr. Cuevas has been a Member of the Institute for Advanced Study in Princeton and has held visiting appointments at UC Berkeley, Princeton University, and Emory University. He has also been the recipient of fellowships from the John Simon Guggenheim Memorial Foundation, the National Endowment for the Humanities (NEH), and the American Institute of Indian Studies (AIIS).
News
Featured on New Books Network : New Books in Buddhist Studies (2011)
Bryan Cuevas, Travels in the Netherworld: Buddhist Popular Narratives of Death and the Afterlife in Tibet. Oxford University Press, 2008. Interview by Scott Mitchell on September 23, 2011
To read the article and listen to the podcast, click here.
FSU News Item: FSU vaults to top-tier in Asian studies (2008)
---
Courses
Upcoming Courses (fall 2019)
REL3340: Buddhist Tradition
REL4359/RLG5354: Seminar: Buddhist Tantra
RLG5356: Readings in Tibetan
Current Courses (Spring 2019)
REL3340: Buddhist Tradition
REL4304/RLG5305: Buddhism and Violence (co-taught with Dr. Jimmy Yu)
RLG5356: Readings in Tibetan