Matthew Goff
Professor of Religion
Director of Graduate Studies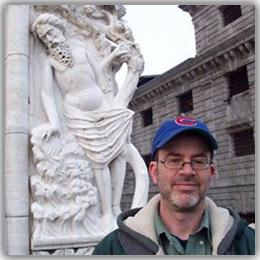 Contact Information
Area
Religions of Western Antiquity
Faculty
Office Location
116 Dodd Hall
Office Hours
By appointment only in 2017-18
Background
I joined the faculty of the FSU Religion Department in Fall 2005. I offer courses in Hebrew Bible and Second Temple Judaism. I completed an M.T.S degree in 1997 at Harvard Divinity School and I finished my Ph.D. at the University of Chicago in 2002. I studied under John Collins and wrote a dissertation on 4QInstruction, the longest wisdom text of the Dead Sea Scrolls. This document is the best example available of a sapiential text with an apocalyptic worldview. Working on this composition developed my interest in the intersections between the wisdom and apocalyptic traditions in early Judaism. 
I was awarded a grant from the Humboldt Foundation (Forschungsstipendium für erfahrene Wissenschaftler) and spent the 2013-14 academic year at Ludwig-Maximilians-Universität in Munich, Germany, working on a book on giants in ancient Judaism. 
Recent Conferences
Prof. Goff is co-organizing an interdisciplinary conference on the Dead Sea Scrolls and the Nag Hammadi codices, with Dr. Dylan Burns (Freie Universität Berlin). It takes place in Berlin on July 20-22. For more information, see here.
Recent Books
Recent Articles
Research and Teaching Specializations
Wisdom Literature 
Apocalypticism 
The Dead Sea Scrolls 
Second Temple Judaism 
News

---
Courses
fall 2019
REL2210: Introduction to Old Testament
REL3209: The Dead Sea Scrolls
spring 2020
REL3293: The Lost Books of the Bible
REL4214: The Book of Genesis