Matthew Goff
Professor of Religion
Director of Graduate Studies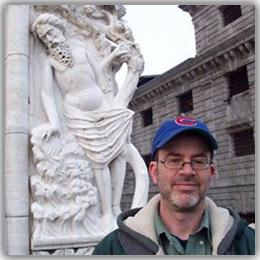 Contact Information
Area
Religions of Western Antiquity
Faculty
Office Location
116 Dodd Hall
Background
I joined the faculty of the FSU Religion Department in Fall 2005. I offer courses in Hebrew Bible and Second Temple Judaism. I completed an M.T.S degree in 1997 at Harvard Divinity School and I finished my Ph.D. at the University of Chicago in 2002. I studied under John Collins and wrote a dissertation on 4QInstruction, the longest wisdom text of the Dead Sea Scrolls. This document is the best example available of a sapiential text with an apocalyptic worldview. Working on this composition developed my interest in the intersections between the wisdom and apocalyptic traditions in early Judaism. 
Recent Conferences
Prof. Goff is co-hosting with Prof. Joseph Hellweg the 2021-22 Southeastern Regional SBL.AAR meeting.  For more information about this meeting, see here https://relse.org/
Recent Books
Recent Articles
"When Monsters Walked the Earth: Giants, Monster Theory, and the Reformulation of Textual Traditions in the Enochic Book of the Watchers," Journal of Gods and Monsters 2 (2021): 39-57. 
"The Act of Reading Sirach as a Generative Context For Jewish Liturgical Poetry and Sirach Itself," in Sirach and its Contexts: The Pursuit of Wisdom and Human Flourishing,  240-261.
"Deep Time, the Monstrous, and the Book of the Watchers in the Hellenistic Age," in Notions of Time in Deuterocanonical and Cognate Literature.
"It Didn't Happen the Way Moses Said It Did: Exegesis, Creativity, and Enochic Traditions in the Apocryphon of John," in The Dead Sea Scrolls and the Nag Hammadi Codices.
"Jewish Scrolls, Monastic Codices, and Material Philology," in The Dead Sea Scrolls and the Nag Hammadi Codices.
"The Pursuit of Wisdom at Qumran: Assessing the Classification 'Wisdom Literature' and its Application to the Dead Sea Scrolls," in The Oxford Handbook of Wisdom and the Bible (ed. W. Kynes; Oxford, 2021), 617-34.  
Research and Teaching Specializations
Wisdom Literature 
Apocalypticism 
The Dead Sea Scrolls 
Second Temple Judaism
---
Courses
Fall 2021
REL2210: Introduction to the Old Testament (Honors)
REL3224: The Hebrew Prophets
Spring 2022
REL2210: Introduction to the Old Testament
REL3209: The Dead Sea Scrolls