Matthew Goff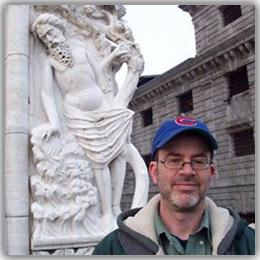 Contact Information
Area
Religions of Western Antiquity
Faculty
Office Location
116 Dodd Hall
Background
I joined the faculty of the FSU Religion Department in Fall 2005. I offer courses in Hebrew Bible and Second Temple Judaism. I completed an M.T.S degree in 1997 at Harvard Divinity School and I finished my Ph.D. at the University of Chicago in 2002. I studied under John Collins and wrote a dissertation on 4QInstruction, the longest wisdom text of the Dead Sea Scrolls. This document is the best example available of a sapiential text with an apocalyptic worldview. Working on this composition developed my interest in the intersections between the wisdom and apocalyptic traditions in early Judaism. 
Recent Books
Recent Articles
"The Diabolical Wisdom of Solomon: Assessing the Jewishness of the Testament of Solomon," in Editionen und Studien zum Testamentum Salomonis (Parabiblica 1; ed. F. Albrecht; Tübingen: Mohr Siebeck, 2023), 239-63.  
"Aramaic as a Language of Antediluvian Wisdom: The Early Enoch Apocalypses, Astronomy and the Deep Past in the Hellenistic Near East," in Reimagining Apocalypticism: Apocalypses, Apocalyptic Literature, and the Dead Sea Scrolls, 199-231.    
With Lorenzo DiTommaso, "Introduction: Re-Imagining 'Apocalypticism' and Re-thinking 'Apocalyptic,'" in Reimagining Apocalypticism, 1-31. 
"Coherence, Professionalization, and the Critical Study of Religion: Then and Now," Bulletin for the Study of Religion 50 (2021): 156-59 (appeared in 2022). 
Research and Teaching Specializations
Wisdom Literature 
Apocalypticism 
The Dead Sea Scrolls 
Second Temple Judaism
---
Courses
Fall 2023
REL2210: Introduction to the Old Testament
REL3293: Apocalypse Then & Now
Spring 2024
REL 2462: Demons, Antichrist and Satan
REL 2211: The Lost Books of the Bible